Philosophy
1) At Skills of Life, we believe it doesn't matter where you come from, we all want the same thing in life. From China to Brazil, you and I are striving to achieve the same goal, and that is to be happy.
Our cultures, backgrounds, and society shape what we believe it'll make us happy but, in the end, we are all striving for the same thing.
Happiness.
2) At the same time, just like we strive for the same thing, we all have the same obstacle holding us back and that is ourselves.
Whether it's our lack of confidence, self-believe, self-awareness, etc. we stop ourselves from living the life we want for ourselves.
3) Communication skills have the power to help you overcome yourself and move forward towards achieving the goal you focus on.
By improving your communication skills, you grow yourself in 3 areas: Personally, Philosophically, and Externally.
Going out of your comfort zone to become a better communicator, will help you develop your self-confidence, self-leadership, self-awareness, empathetic skills.
At the same time, this will help you understand yourself better, allowing you to develop clear opinions and philosophies that will guide you. This helps you make better decisions, which help you focus on the things that matter to you.
Lastly, as you become more confident and develop clear opinions, you will begin to attract those that think alike and are looking for somebody to guide them in their journey.
This will open doors for you, allowing you to grow your brand, your network, and your influence.
So put all this together and you'll see why our "Why Statement" is:
To help people master their communication skills so that they can make the impact they envision.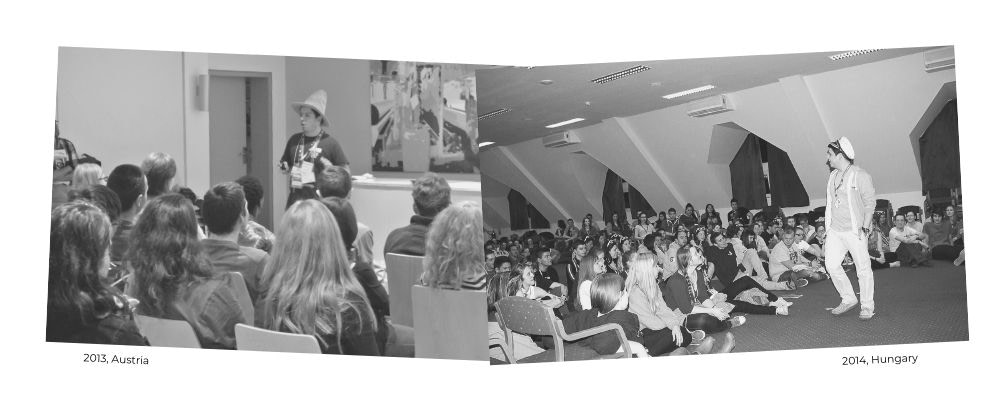 How It All Began
My name is Juan and ever since I can remember, I've been fascinated by trying to understand why people say the things they say.
I just find it extremely interesting.
And so back when I began having a social life, I'm talking 1999, at the end of the day, I would lay in bed and analyze and reflect my interactions.
Constantly asking myself, in what situation do I need to be to say X? How do I need to feel to do Y? How did he react when I say Z?
From there on, the skills grew.
As I moved to the USA and met people from all over the world, the cultural element came into place and so my passion for it just grew more and more.
And so Skills Of Life started as a blog to share my learnings, help people better understand why what they say doesn't connect or even have the opposite effect.
Because at the end of the day, all our thoughts and actions, are influence by the way we communicate and vice-versa.
So master your communication skills and you will be able to get on the path to success.
5 Quick Facts About Juan
1) I'm originally from Venezuela, I live in Vienna with my Bulgarian wife who I met in Budapest.
2) I make a living as an event moderator, workshop trainer, and consultant to companies, startups, and freelancers helping them simplify their message and persuade more people to buy from them. You can learn more here >> www.juanguerra.net
3) I find traveling and learning about other cultures extremely rewarding because it teaches me new ways to approach my life.
4) I see writing is the best tool to internalize your experiences and discover the lessons in them.
5) I have a production company helping small businesses and startups create persuasive video stories that increase their sales. You can learn more here >> VIDELIN
Wanna get in touch? send me an email